Marketing Strategy Of Coles
Write a report demonstrating how culture could assist your chosen organization COLES ( in developing their marketing strategy.In your answer you should choose a company you have worked for (or admire and would like to work for) and use this as the context for your discussion (If they have more than one product or service, please choose one to focus on).
Answer:
Introduction
Coles supermarket is an Australian retail chain which is owned by Wesfarmers and was founded in the year of 1914. A huge cooperation operating in 741 stores, the store has over 100,000 employees and along with another giant Woolworths forms around 80% of the Australian supermarket industry (Woolworths, 2009). The history traces back to the time in 1914 when G. J. Coles opened up a Coles Variety Store in Melbourne. The year of 1958 saw expansion of Cole's food retailing when the supermarket store acquired about 54 John Connell Dickins grocery store followed by Beilby's chain and then Matthews Thompson stores.
Getting Tired of Never-Ending Assignments?
 Hire an Expert from thebestssignmenthelp and Get the Necessary Assignment Help at a Reasonable Rate.
The company Coles uses heavy-handed techniques and tactics for dealing with its suppliers which faced huge accusations from the suppliers. There have been various branding and advertising strategies adopted by the retail chain by changing it slogans and presenting advertisements which were new in concept and creativity. They also pay attention over promotions of some leading schemes which can attract a huge consumer base. The examples were discount coupons for fuel offer, flybuys loyalty program points, Apple for Students campaign to promote Apple computers and accessories, Sports for Schools etc. At Coles, employees live their values and uphold their way of working. The buyers and suppliers are made aware of the ethical policies, code of commitment and ways of working which are fair and caring.
Marketing Strategies for Coles
The aim of the company is to give the people of Australia a shopping experience that they trust for its delivered quality, services and values. Cole's Circle for Success is a six point plan to be able to help Coles to move forward in the direction of their mission to give a clear message about the priorities as set by Coles.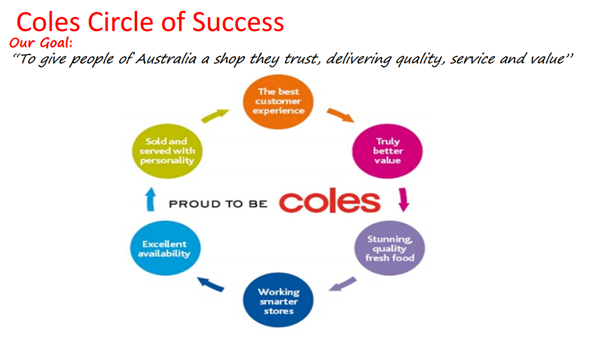 Figure: Circle for Success for Coles
There are plethora of initiatives being taken up by Coles to meet the needs of the present customers. It included diversification of products, improvement of on-shelf availability of products, removal of product or service duplication (Hoyer 1984), and strategies to enhance the experience of shopping of the customers. There was an innovative business combination of decreased price along with increasing cost absorption so as to deliver value to the customers. There were reinvigorating techniques for company's logistics and merchandise. Coles store matched up with the food requirements of Australia depending upon their culture and way of cooking. In Australia, the trend was to cook many foods from the scratch rather than using prepackaged foods. So, Coles upheld the food practices by providing diversity and options in food items. For providing the services of promising store team members, Coles involved in retail Leaders program which was an innovative approach for training purposes. The keys for the marketing strategies are people, stores, products, care, and financial returns.
The company aimed at fixing some of the hygiene factors like checking for smooth trolleys, reducing queue time for customers, opening the entrances, reduce the amount of manual checking and to apply these techniques uniformly at all the stores (Huddleston, 2004). The sense of purpose, security, money, flexibility, and opportunities of advancements are the key motivators for the company. The wise decision of collaborating up with SecondBite program was a part of the innovative marketing strategies by contributing a part in social work and cause. This was an intelligent step to reduce waste by helping the needy people by giving them basic need of food. The internal recruitment have been a major strength by strengthening the presence of the employees and made them experts by giving relevant training.Flourishing of diversity, aggressive lowering of prices, food security within the region, Down Down campaigns, and many more concepts have made the chain rule the supermarket market (Humphery, 1998).
Culture- The External Factor
Culture have an indelible impact over the organization and the trends followed in the marketing and production principles. Culture of Australia involves fresh market for food, dairy and meat products and therefore, Coles should not just lay its focus over just one of the product but stick to its product diversification strategies. Culture is either an enhanced use of technology with latest trends or a widespread use of social networking and social media to affect the business. Different cultures, styles and trends keeps on changing with the course of time. The culture of Australia fosters both general stores and supermarkets for sales of food and beverages (Nenycz). The culture of Australia allows growth of supermarkets more than cafes or restaurants as people are bend towards making and cooking their food from the scratch rather than eating out.
Figure: Supermarket vs restaurant- Food trend in Australia
With this trend and culture in Australia, we can get a review about their eating habits and cooking trends. The culture in Australia also focuses over promoting the sales of home grown products and make them usable for the people in general.
Culture on the other hand also influences the buying behavior of the consumers. This external influence may vary as per the different beliefs of the people and their changing expectation and trends. The culture is inherently nebulous in nature and the norms must be tapped by business so as to produce and market the products as per the demands. The eating habits forms a part of the culture which Coles must adapt.
Impact of Culture over Coles
Coles have adopted the external culture of Australia and have diversified the product ranges. They must closely monitor the demands of the market of the fresh fruits and vegetables. Since the supermarket is specialized for Australia, Coles have developed customized and specialized culture. They have a Coles brand which is popular and they must focus over such products for enhancement of their sales. For the advertisement culture in Australia they must make efforts for enhanced awareness and they presently make use of co-branding for the purpose of create a broader brand appeal by collaborating with Qantas ANZ Visa Card. They have such a major impact that every $ 10 spent of shopping in Australia, $ 1.30 goes into the shares for Coles. There are myriads of reasons for which consumers do not have a choice but to extend their shopping interests in Coles because of their adaption with the present culture of the region.
They have tapped the culture of Australia and have focused over three capabilities:
Highly effective supply chain: they have in bound and out bound logistics for all the assets making up a network.
Brand reputation: It has quality, service and value blended with positive consumer experience for a distinctive competitive strategy.
Effective Top management: They have sustained Coles in the competitive environment and economic situation of Australia.
Target Customers
The target customers for Coles are the people of Australia that have different cooking habits and are satisfied with the services provided by Coles. It should be kept in mind that in addition to having products in the field of fresh fruits, dairy and other products, Coles should target children and youth between the age of 10 to 25 years by providing products of their convenience, choice and requirements. They must be provided with special offers over some special products matching up with their personality.
SWOT Analysis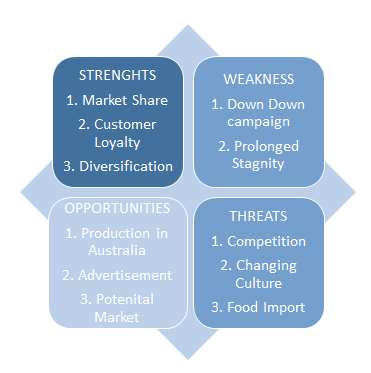 Figure: SWOT analysis for Coles
Recommendation and Suggestions
There should be a focus over both short term and long term recommendations for the marketing strategies of Coles in regard with their present strategies and the future expectations of growth.Coles must lay a keen focus improving, refining or enhancing their investments in the field of advertisements and promotions in order to make their vision reach to the customers. (Short Term Recommendation)The prime aim of Coles should be to represent their quality and the range of products and also focus over their healthy products that go well with their consumers who are fitness freak (Pritchard, 2000). This will help in rebranding of the brand Coles to increase the likelihood of purchasing by the customers. A valuable point of differentiation in the market with quality food and less cost is a result of increase in advertising coherence and prospects.With an upsurge of the critics for Down Down campaign of Coles, there must be a balancing of rates to smoothen up the chaos. (Short Term Recommendation). The Down Down campaign undertaken by the company was though a huge success to fire up the sales of all the diversified products and make up a different mark from all the competitors. But, this strategy or a marketing technique faced much criticism as it prolonged from the expected period of time (Ja, 2009) and hence cut off the sales of other brands too. It was marked as the greatest grocery marketing campaign in history.
Figure: Price index of fruits and vegetables after Down Down campaign
This is a proof that the sales of fruits and vegetables accelerated after implementation of this campaign. There were different pricing strategies adopted by Coles in the meanwhile and therefore, they were successful in maintaining their sales on an all time high. There were rounds with different targeted products. Round one was based over milk and dairy products and round two was inspired by fresh fruits and vegetables. There was an expectation of round three targeting over meat too. It is a mutual benefit for customers and partners by keeping the prices low and by the strategy of selling more.
Coles must focus their marketing strategies over building up an enjoyable and convenient shopping experience for their customers. (Long Term Recommendation)
Making the Coles store convenient for the customers and enhancing their shopping experience can be carried out by variety of ways and methodologies by refining both on store shopping experience and online shopping experience. Coles should focus over refurbishment of the stores to improve the atmosphere of the stores like inclusion of some light music or a good tempo, enthusiastic, hospitable and warm staff members for customer service and some similar strategies for a good on store shopping experience. For online convenience there can be regular coupons or redeemable points over Coles' card for shopping.
Focus over new or profitable business ventures like Coles Express to tap the potential market of Australia. (Long term Recommendation)
Figure: Drivers for Food Sucsess
Coles should invest in the ventures and business models that are new, contemporary, innovative and sustainable. It can be observed and predicted that the future venture for the Australian supermarket can fall down therefore, Coles must look into new business ventures for growth of sales and other factors. Coles Express is a concept and Coles Online Shopping that must be enriched and focused for a better venture.
Conclusion
The report gave some of the detailed explanations about the current marketing strategy of Coles and their future prospective. It unfolded to learn about a major external influence of culture over the functioning and internal culture of the organization. Culture of a region and the market will guide the productivity and marketing strategies of Coles. Further, the impact of this culture factor over Coles is studied and the future marketing strategies are presented as an expected plan. Some short and long term recommendations are provided for a better business and marketing.
References
Hoyer W., D., (1984). An Examination of Consumer Decision Making for a Common Repeat Purchase Product. The Journal of Consumer Research, 11(3), 822-829.
Huddleston P., Whipple J. and Van Auken A. (2004). Food store loyalty: application of a consumer loyalty framework. 
Humphery, K. (1998).Shelf life: supermarkets and the changing cultures of consumption. Cambridge University Press.
Ja C., and Godfrey M. Aussies angry as grocery prices soar. Sydney Morning Herald, 9 November 2009.
Lee, J., (2009). The massive marketshare of Coles and Woolworths. Sydney Morning Herald, 31 August, 2009.
Nenycz-Thiel, M. Private Labels in Australia: A case where retailer concentration does not predict private label share. Brand Management, 18(8), 624-633.
Pritchard, W. N. (2000). Beyond the modern supermarket: geographical approaches to the analysis of contemporary Australian retail restructuring. Australian Geographical Studies,38(2), 204-218.
thebestassignmenthelp.com boasts a pool of 3000+ experts from different backgrounds, who are solely dedicated to providing premier quality assignment help. Due to the diversity in our expert team, we are capable of providing academic assistance in more than 100 subjects. Some of our popular services include math assignment help, economic assignment help, accounting assignment help, statistics assignment help, law assignment help and more at a reasonable price.
The Best Assignment help is one of the best website for assignment help. For more details you may contact us at thebestassignmenthelp@gmail.com or call at +447418324884, +918607503827